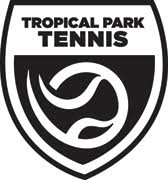 PRIVATE & SEMI-PRIVATE LESSONS
CLICK HERE


AFTERNOON & EVENING TENNIS CLASSES (KIDS)
Programs Available Year Round
CLICK HERE TO REGISTER


ADULT PROGRAMS
Programs Available Year Round
CLICK HERE TO REGISTER


UPCOMING SINGLE DAY CAMPS
(2016-2017 School Year)

September 5 (Monday)
October 3 (Monday), October 12 (Wednesday)
November 8 (Tuesday), November 11 (Friday), November 23 (Wednesday)
November 24 (Thursday), November 25 (Friday)
January 16 (Monday), January 23 (Monday)
February 20 (Monday), March 24 (Friday)
May 29 (Monday), June 9 (Friday)

PLEASE REGISTER AT LEAST 2 DAYS IN ADVANCE. IF YOU ARE REGISTERING LATE, PLEASE CONTACT JD AT 305-926-0147 (CALL OR TEXT) OR AT JD@TROPICALPARKTENNIS.COM TO MAKE SURE WE HAVE ROOM
CLICK HERE TO REGISTER




The Tropical Park Tennis Center has 12 lighted tennis courts and 8 lighted outdoor racquetball courts available for use. We are located just off the Palmetto with park access available on Bird Road (40 street) and Miller Drive (56 street).

Reservations can be made by calling or texting 786-205-1006. Please wait for a response on court availability if you are leaving a voicemail or text message. A staff member will respond to you promptly.